By Linda Atwell, Indigo client and author of Loving Lindsey
How did I happen to end up writing a book? My typical response has been: Lindsey gives me stories. And although that is true (there are several other reasons as well), I say in my disclaimer:
When my kids were growing up, I didn't know there was a manuscript in our future. I didn't walk around with a recorder, taping every conversation or logging every outfit worn. I've re-created stories to the best of my memory….
One of my dear friends, as encouragement, gave me a sign that says, "The WORLD is waiting to hear your STORY." I immediately hung it on my office wall and started writing.

Still, this story-telling journey has taken seven years. Seven years to write, to edit, to rewrite, and then do it over and over again. And that is a very good thing. My manuscript wasn't ready till now….

In the fall of 2010, I started writing Loving Lindsey (a manuscript that was initially titled Out One Ear because of one of my daughter's unusual sayings, then The Other Kind of Special, My Forever Child, and Broken Sand Dollar—just a few of the titles that were seriously considered before my publisher settled on Loving Lindsey).
For years, before I'd ever written a word on the page, I'd been writing our story in my head. I thought it would be a cinch to get it down on paper. When I finished my first draft(s), I was so excited. I couldn't wait to share. Several good friends (and a few acquaintances) tackled reading my early work—and I'm incredibly grateful for their kind feedback on a manuscript that was not ready to be shared….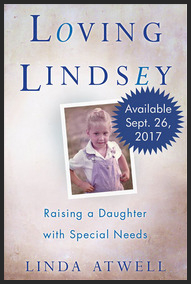 Since those early drafts, I've strived to improve my craft. I've attended writing workshops in beautiful settings such as Lake Atitlan, St. Simons Islands, Whidbey Island, Esalen Institue in Big Sur, the Oregon Coast, and in Portland at The Attic, as well as at various college campuses in the northwest. Joyce Maynard, Cheryl Strayed, Melissa Hart, Ariel Gore, Debra Gwartney, Jeff Baker, Samantha Dunn, Pam Houston, Alan Heathcock, Jennifer Lauck, and Steve Almond are a few of the talented, well-respected authors who became teachers and mentors and have offered sage advice. I believe their feedback has improved my writing. Each of these authors has his or her own unique method of teaching the art of writing. And with each individual, I learned at least one new valuable lesson.
When I wrote my initial manuscript, it was lengthy. I believed there was just one story, starting when Lindsey was a baby and ending when she turned thirty. It had a ton of twists and turns. And so it kept growing in pages. As I sought an agent and/or publisher (some small presses don't require an agent), I found it very difficult to give a short description of my incredibly convoluted story. After a pile of lovely, personalized rejection letters arrived, I hired a professional editor to read my manuscript and offer developmental editing advice on how I might improve my chances for publication.
"You have two manuscripts," said Ali Shaw from Indigo Editing, adding, "with two distinct journeys." As soon as she uttered those words, I knew she was correct….

Read the rest of the story behind Loving Lindsey here.